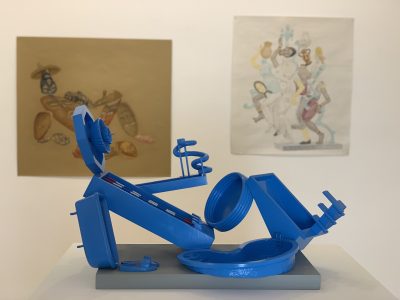 Bernier / Eliades Gallery is pleased to announce the solo exhibition of Dionisis  Kavallieratos  "Chorus / Χορός",  on Thursday 18 June.

Dionisis Kavellieratos was born in 1979 in Athens. He lives and works in Berlin. He graduated from the School of Fine Arts (2002) and completed the Radar Project (residency) in Venice and Krakow (2003-2004). Kavallieratos' flexible artistic practice includes small and large-scale sculptures in wood, clay or mixed media and drawings in pencil and charcoal. His work reveals a dazzling inner world -a personal universe through a humorous and ironic style.

In his new exhibition the artist will present 29 large scale drawings that approach the theme of the Dance in the ancient theater, under a different perspective.

"The artist converses with the tradition of classical tragedy and comedy and designs a body of anthropomorphic characters that dance, referring to the narrative and catalytic function of the Dance in the ancient theater. At the same time, the artist usurps iconographic and morphological elements from popular tradition, of the 20th century history, literature and nature, in order to invite us and challenge us to reflect on contemporary social, political and human issues, always through parody and self-sarcasm".

Polyna Kosmadaki | Art Historian & Curator, Benaki Museum, Athens.