VIEWING ROOM FALL 2020 Works
Fall 2020 | Viewing Room
1 – 30 October, 2020
Bertrand Lavier,Walt Disney Productions 1947-2013 No 15, 2013,Acrylic and oil painting on canvas,diam.120 cm
Since the late 1960s, Bertrand Lavier (b. 1949, France) has created a complex and eclectic universe creating artworks that challenge and questions the notion of the identity of the artist, and the relationship between the artists ego and the rest of the world, each work of his, is a sardonic dare towards the insufferable codes and rules of the art system and of contemporary culture.
Major point of reference in the artist's oevre is the "Walt Disney" series through which paintings and sculptures that previously existed only in mass-produced strip cartoons in comic books have become real, three-dimensional artworks.
Jonathan Meese
"DR. FRESH FOR K.U.N.S.T.!", 2019
Acrylic on canvas
270,4 x 180,3 x 4 cm
Jonathan Meese (b.1970, Tokyo)  appeared on the international art scene back in 1998 and is now one of the contemporary art world's most enigmatic, seductive and rebellious figures. He is renowned for his multi-faceted work, including wildly exuberant paintings that mix personal hieroglyphics and collage, installations, ecstatic performances, and a powerful body of sculptures in a variety of media.
At the core of his work remains an unrelenting sense of history, based on intimate drawings, symbols and objects which form the mythological universe of his life's work, drawing in the innocent by-stander almost by force.
INQUIRE
Rallou Panagiotou
"No More Black Shoe", 2019
Marble, lacquered wood, and wool
257,7 x 118,6 cm
Rallou Panagiotou (b.1978, Greece) creates sculptural topologies with composite materiality and formal conciseness. Assembled from highly mediated fragments of built environments, anatomized commodities and traces of gestures, her work collapses distinctions between different orders of objects and technologies via a currency of emotions.
INQUIRE
Susan Rothenberg, Primo, 2007, Oil on canvas, 198  x  213,5 cm
Susan Rothenberg's (1945 – 2020) early works that came to prominence in the 1970s New York art world, were mainly large acrylic, figurative paintings of horses. Since the 1990s her works were mostly reflections of her move from New York to New Mexico. With the use of thickly layered and intense brushwork, her paintings acquire life and depict scenes from everyday life – either an unpleasant event or a moment of remembrance.
A distinctive element also of her works is a tilted perspective which attributes to the work an eerily objective psychological edge.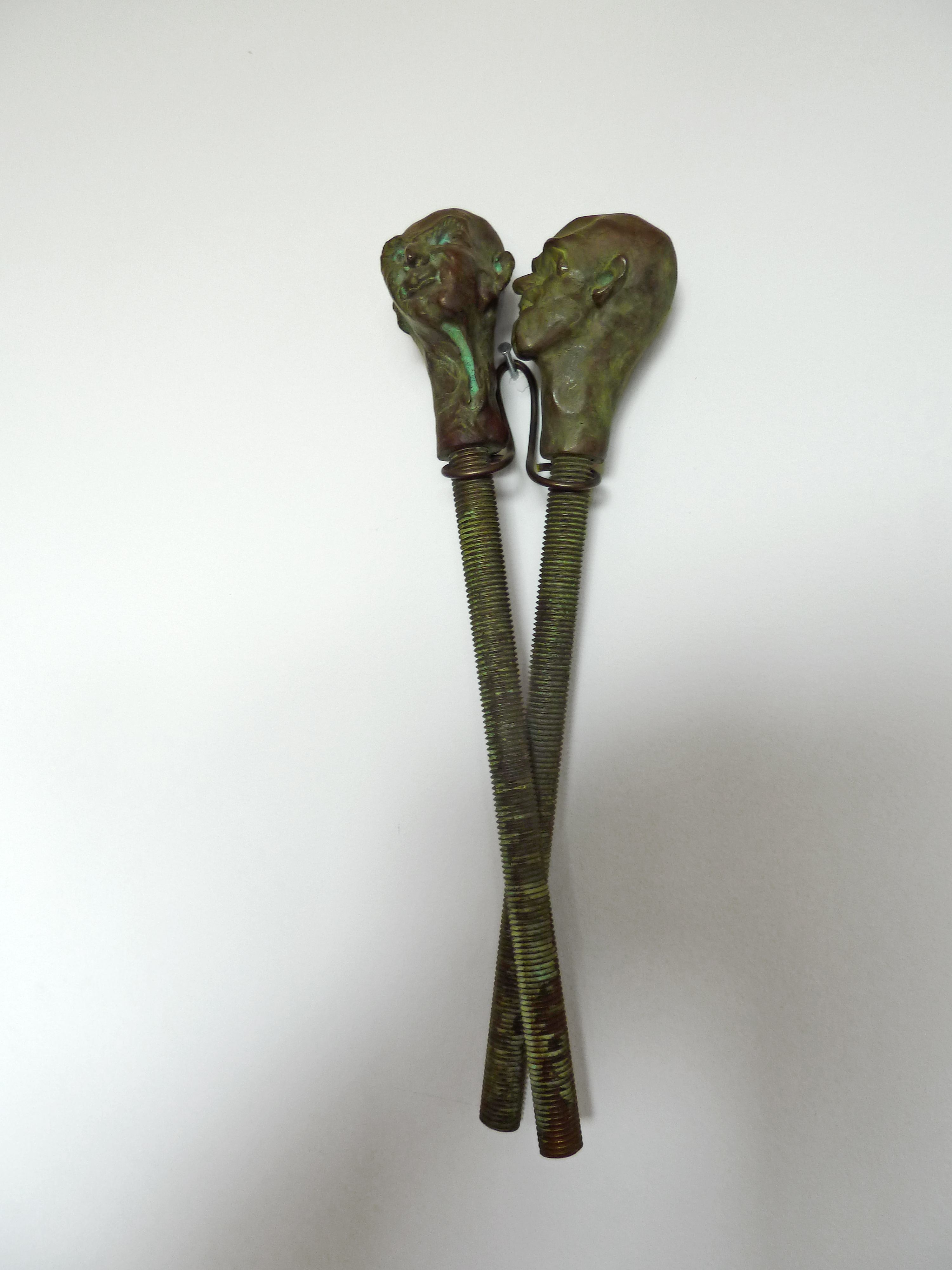 Thomas Schütte, United Enemies, 1997, Bronze, steel, copper, 34 x 5 x 6 cm
Thomas Schütte's (b. 1954, Germany) work develops in many different areas: architectural models, installations, watercolors, banners, sculptures in different scales, etchings, are some of the most expressive mediums the artist uses during the last years. Schütte generates a personal collection of techniques and styles, from which draws its material every time. He believes that form, material and color have their own language, which is impossible to translate.
Subject-wise, the basic axis of his work is the human condition, with strong socio-political references: the artist re-examines the main aspects of everyday life while he explores at the same time the fundamental questions regarding the condition and the status of the artist and the artwork, today.
Robert Wilson
"Elk", 2019
Marble, lacquered wood, and wool
257,7 x 118,6 cm
The video portraits of Robert Wilson (b. 1949 USA) infuse references found in painting, sculpture, design, architecture, dance, theater, photography, television, film and contemporary culture.  The final result on the HD monitor resembles a photograph, but on closer inspection reveals Wilson's highly developed theatrical language in conjunction with the startling clarity and precision of HD video.
INQUIRE